Greek Village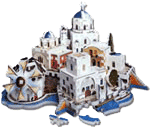 Manufacturer:
Wrebbit
Number of pieces:
246
Difficulty Level:
Average
Completed Puzzle:
Yes
3
Technical Diagram:
test
T his picturesque village, built along the mountainside overlooking the Mediterranean, embodies the charm and the breathless beauty of the Greek islands. The archipelago harbors a group of 3,000 islands and islets scattered near the western coast of the Greek mainland. A mere 150 of these islands are inhabited. Some are extremely dry and rocky, while others abound with vegetation.
The majestic landscape of the islands has seduced mankind since time immemorial. The Cyclades form a circle, with the island of Delos, considered sacred, at its center. One of the most brilliant and most important cultures in the history of the world flourished cm this archipelago: the Cvcladic Civilization (3000 - 1000 BC). Over the centuries, earthquakes, volcanic eruptions and mudslides have buried the Cyclades' legendary past deep underneath its soil.
The whitewashed houses bedecked with blue, green or pink shutters are representative of the architecture that prevails throughout the Cyclades. Every year, thousands of visitors climb their wav to the splendor and beauty of the village. Narrow lanes interlock like a basketweave pattern. A surprise awaits you at every corner. Some pilgrims gather in silence near a church bathed in pure alabaster white, while tourists revel in the bustle of the nearby market in search of good-luck charms, talismans and icons. From the mountaintop, an old windmill keeps an eye on the homes and shores below. The villagers assemble on the terrace of a coffee shop and observe the fishermen as they mend their nets, scale their catch and clean their vivid-colored boats. The view of the ocean is simply spectacular, the kind of panorama you can admire forever.
---