Empire State Building Glow in Dark (Towers to Scale)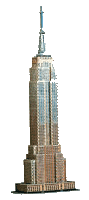 Manufacturer:
Wrebbit
Number of pieces:
468
Difficulty Level:
Average
Completed Puzzle:
Yes
3.5
Technical Diagram:
test
This superb Art Deco building is one of New York City's most powerful symbols. This Manhattan icon has appeared in several dozen films, most notably, King Kong. The skyscraper, the world's tallest from 1931 to 1972, continues to inspire awe to this day.
The Empire State Building's construction began just as the US was entering the worst economic crisis in the history of the nation. Labor was plentiful and cheap. As a result, the building of 381 meters (1250 feet) went up in a very short time. It was inaugurated on May 1, 1931 after a little more than 400 days of work.
The stone and stainless steel tower is supported by 60,000 tons of steel. Its slender form, marked by a series of setbacks at the top, culminates with a spectacular mooring mast for airships that is 46 meters (151 feet) tall. Although not in use, the mast gives the building a touch of elegance.
---