Citigroup Center (Towers to Scale)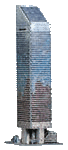 Manufacturer:
Wrebbit
Number of pieces:
300
Difficulty Level:
Average
Completed Puzzle:
Yes
3
Technical Diagram:
test
Architect Hugh Stubbins' most accomplished work, the Citigroup Center has been an imposing presence at the heart of Manhattan since 1977. Standing at 279 meters ( 915 ft. ), this modern designed tower rests on four immense 10-storey-high piles and opens onto a vast urban space that includes a concert hall, a chapel and boutiques.
This space, a veritable ode to the outgoing lifestyle of New Yorkers, was worked around the Lutheran church that occupied the site since 1862 The prestigious 59-floor tower blends in perfectly with its surroundings, and also stands out from an architectural point of view because of its many technological innovations.
The Citigroup Center is the very first skyscraper to feature a device at the top of the budding that cuts wind-induced swaying by half What's more, the building is inclined to capture solar rays and save energy - a fine idea that failed to produce any results, The beveled roof has, however, managed to contribute to the reputation of Citibank, and to transform the New York skyline forever.
---