Commerzbank Tower & Messeturm (Towers to Scale)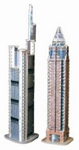 Manufacturer:
Milton
Number of pieces:
419
Difficulty Level:
Average
Completed Puzzle:
Yes
3.5
Technical Diagram:
test
Commerzbank Tower
At 259 metres, the Commerzbank Tower held the title of tallest skyscraper in Europe until it was outstripped in 2003 by Moscow's Triumph Place at 264 metres. However, it is not the building's height, but its original design that makes it stand out from the crowd. Shaped like an equilateral triangle with rounded corner pieces, the building measures 60 metres across. Three distinct sections are 16 metres tall and 40 metres wide, meet to create a splendid central atrium which reaches from the bottom to the very top of the tower. Glass panels allow daylight to flood in.
This 56 story office block, designed by architect Lord Norman Robert Foster, was completed in May 1997. Many of the tower's offices offer a magnificent view over one of the nine gardens.
Messeturm
Until it was outstripped by 2 metres in height by the Commerzbank Tower in 1997, Frankfurt's Messeturm held the title of the tallest skyscraper in Europe. Its tapered shape reflects the art deco tradition in its purest form. In this, it is reminiscent of the Band of America Plaza in Atlanta USA.
This magnificent concrete skyscraper, cloaked in red granite, was designed by architect Helmut Jahn. The i8nterior of the building boasts an impressive entrance hall made of huge glass cylinders, supported by large columns. Completed in 1990, this tower is capped by the three-tiered pyramid. This pyramid alone add just over 36 metres to he height of the building.
---