West Coast Trio (Towers to Scale)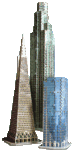 Manufacturer:
Wrebbit
Number of pieces:
627
Difficulty Level:
Average
Completed Puzzle:
Yes
4.5
Technical Diagram:
test
Measuring 310 meters (1,018 feet), the US Bank Tower in Los Angeles is the tallest high-rise in California. Built according to the highest antiseismic standards, it can withstand earthquakes of 8.3 on the Richter Scale. This 73-story round skyscraper features rectangular towers of varying height that intertwine to give the building its unique appearance. The US Bank Tower was formerly known as the Library Tower because developers provided funds for renovating the adjacent Central Library in exchange for air rights. The building has a commanding glass crown at its top that is illuminated at night.
Along with the Golden Gate Bridge, the Transamerica Pyramid in one of the most powerfully icons of San Francisco. The tower is 260 meters (853 feet) tall. Erected near the San Andreas Fault, it, too, is designed to withstand the worst natural disasters. The building rests on a solid foundation of concrete and steel built to sway during earthquakes. Its pyramid shape is also an asset, with the bulk of the load reserved for the lower floors. For instance, the 5th floor houses 1,953 m2 (21,025 sq. ft.) of office space. The 48th, 188 m2 (2,025 sq. ft.)
The SunAmerica Center in Los Angeles is yet another of the West Coast's prestigious buildings. This glass and granite tower standing 163 meters (533 feet) tall comes with a breathtaking view of the Pacific Ocean, the Santa Monica Mountains and Downtown LA.
---