1965 Ford Mustang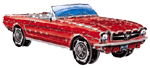 Manufacturer:
Wrebbit
Number of pieces:
364
Difficulty Level:
Average
Completed Puzzle:
Yes
2.5
Technical Diagram:
test
1964: The world debut of the Mustang occurred at the World's Fair in Flushing Meadows, New York on April 17, 1964.
Standard equipment includes a 170-cubic-inch (cid) six-cylinder engine, three-speed floor-shift transmission, full wheel covers, padded dash, bucket seats and carpeting. It weighted just 2, 572 pounds. The price at launch: $2,368.
At the car's launch, the company expected annual sales of about 100,000 units. But 22,000 Mustangs orders were taken on the first day, and sales reached an astounding 417,000 in the car's first 12 months.
This first regular production Mustang was a Wimbledon White convertible with 260-cid V-8 that rolled off the assembly line on March 9, 1964. While on a promotion tour of Canada, a Ford dealer in St. John's Newfoundland "mistakenly" sold the care to Capt. Stanley Tucker, a pilot with Eastern Provincial Airlines. Ford required the car from Capt. Tucker in 1966 in exchange for a Mustang number 1,000,001, and the original car is now on display at The Henry Ford in Dearborn Michigan.
---