Haunted Mansion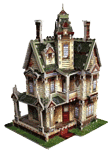 Manufacturer:
Wrebbit
Number of pieces:
399
Difficulty Level:
Average
Completed Puzzle:
Yes
2.5
Technical Diagram:
test
A magnificent Victorian house stands a few kilometers from a small, quiet town. Despite its welcoming exterior, it is home to some rather strange occurrences. Mysterious sounds can be heard the moment night falls. The manor is surrounded by thick fog; nevertheless, a faint glow manages to reveal a disturbingly ghostly figure.
Tales of haunted houses date back to the dawn of time. One of the earliest recorded instances revolves around the ghost of Pausanias, a Spartan general, which appeared in the 5th Century BC, terrorizing the faithful assembled in Athena's temple. Whether like Pausanias, found guilty of treason, or someone bent on avenging a crime or making a mends for a wrong committed when alive, spirits generally tend to haunt the places where they experienced a tragic event.
Spiritism experts contend that each spirit has its own personality. They also admit, however, that there are different types of spirits. The most popular are the ones we see most often in horror films, ex. Poltergeists. These wandering, tormented souls reveal themselves in violent ways, by knocking around objects they sometimes use to cause bodily harm to the house's living occupants. There are also light spirits. They're more prone to mischief and derision, crafty sorts that enjoy having fun at the expense of mere mortals!
Do haunted places really exist? Hard to say. But if I were you, I would avoid going near this house after nightfall…
---