Ancient World Globe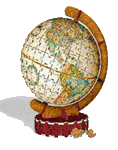 Manufacturer:
Wrebbit
Number of pieces:
350
Difficulty Level:
Difficult
Completed Puzzle:
Yes
4
Technical Diagram:
test
If, today, there exist precious few mysteries about the geographic makeup of Earth, it is largely due to expeditions undertaken by intrepid seafaring explores who ventured onto the high seas, often putting their lives on the line.
Cartography requires a great deal of painstaking research and charting. This science, known to the Egyptians in 23000 BC, was mostly developed by the Greeks. In the 2nd century AD, Ptolemy, one of the most eminent cartographers of Ancient Times, wrote a book titled Geographic, in which he compiled all of the geographical knowledge of his time. The cards in this work helped Christopher Columbus embark on the famous crossing that led him to America in 1492.
It is, however, the voyage of Portuguese explorer Ferinand de Magellan that confirmed Aristotle's theory that Earth was round. He set sail in 1519 in search of the Orient. Of the five ships that were part of the expedition, only the Vittoria arrived safely, after a grueling voyage that lasted over three years. It was the first Pacific crossing and the first voyage around the world. It made it possible to determine the approximate size of the Earth, and the render it in globe form for the very first time.
Note: This Puzz-3D representation of the World globe was esthetically inspired by antique globe while based on contemporary geography.
---