Sylvester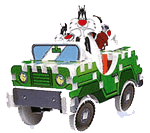 Manufacturer:
Wrebbit
Number of pieces:
61
Difficulty Level:
Mini
Completed Puzzle:
Yes
.5
Technical Diagram:
test
Bugs Bunny Sylvester, Tweety and the Tasmanian Devil. Indeed, these wild and wacky Looney Tunes characters have been reunited once again. Created by Warner Bros., the Looney Tunes animated series immediately captured the imagination of young and old alike. Today, cartoon fans everywhere continue to follow the adventures of their favorite merry band of spirited jesters.
As soon as Warner Bros. began producing the Looney Tunes, the cartoon series captured the imagination of the general viewing audience. At the time, animated shorts or films were very popular. They were screened in movie theaters as previews to the feature presentations. Their popularity was such that, within a few years, Warner Bros. was releasing an average of 36 cartoons annually. The Academy Award winning Looney Tunes would eventually take their silver screen success to the television screen.
Sylvester: the cat that sees yellow
Perhaps the dean of bird- or mice-chasing cats, Sylvester is always looking for new prey. With his big tomato nose and paws that look like oversize buffoon pants, Sylvester was designed to evoke a clown- like image. Although cursed with a remarkable lack of success in catching his prey, he is nothing if not persistent, developing one cunningly evil plan after another to snare Tweety, to no avail. More than 100 Sylvester episodes were made, and he had his own television show.
---