Ninja Bike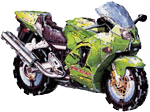 Manufacturer:
Wrebbit
Number of pieces:
313
Difficulty Level:
Average
Completed Puzzle:
Yes
4
Technical Diagram:
test
The ultimate in Ninja Performance
As the flag ship model in the legendary Kawasaki NINJA motorcycle series, the NINJA ZX-12R is the most radical embodiment of race- proven technology that Kawasaki has ever built. This machine follows a long line of Kawasaki motorcycles that set Standards others were forced to follow. From the legendary 141 to the Z1 and through various open class NINJA models-such as the ZX-11 that carried the standard for nearly a decade- the ZX-12R stands ready to redefine performance in a production motorcycle.
Built to deliver the lightest weight and highest power-to-weight ratio of any machine in its class, the ZX-12R combines a compact engine in a radical aluminum monocoque chassis, wrapped in slippery aerodynamic bodywork. The result is exceptional stability and nimble handling in a performance machine that provides all-day riding comfort.
The NINJA ZX-12R delivers a radical interpretation of race- proven technology-, setting the standard for sportbikes of the 21st century. With its high-performance, cutting-edge engine pumping out abundant horsepower, innovative monocoque frame and highly- developed aerodynamics, the ZX-12R extends the performance legacy of Kawasaki's world-dominating NINJA sportbike line-up.
---