Morning Glory Cottage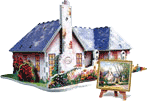 Manufacturer:
Wrebbit
Number of pieces:
31
Difficulty Level:
Easy
Completed Puzzle:
Yes
.5
Technical Diagram:
test
Thomas Kinkade is America's most collected living artist, a painter- communicator whose tranquil, light infused paintings bring hope and joy to millions each year. Each painting Thomas Kinkade creates is a quiet messenger in the home, affirming the basic values of family, faith in God, and the luminous beauty of nature.
Thomas Kinkade, author of Simpler Times, is in his 16th year as a published artist. A devout Christian and accomplished modern- day impressionist, Kinkade has received numerous national awards for his works. Most recently he has received Lithograph of the Year Award for the eighth year in a row, Graphic Artist of the Year for the fifth year in a row, and Artist of the Year for the second time from the National Association of Limited Edition Dealers. Thomas, his wife, Nanette, and their four daughters live in Northern California.
On Morning Glory Cottage, Kinkade says "I love flowers. I love cottages, and I love the radiant effects of morning light. In 'Morning Glory Cottage', the morning glory, a lovely vining flower, is drawn to the tranquil moods of morning light in a setting I dream of stumbling upon."
---