Main Street Stockbridge at Christmas (Stockbridge at Christmas )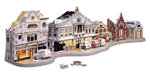 Manufacturer:
Wrebbit
Number of pieces:
174
Difficulty Level:
Average
Completed Puzzle:
Yes
2
Technical Diagram:
test
Born February 3rd, 1894 in New York, Norman Rockwell had a passion for drawing and decided at a very early age to become an illustrator. In order to perfect his art. he studied first at the National Academy of Design and then at New York's Art Student's League. His long and prolific career started when he was a teenager illustrating various juvenile publications. It was at the age of 22, while doing the covers for that era's best selling magazine, the Saturday Evening Post, that the public fell in love with him. During his 70-year career, Rockwell worked for nearly every major magazine. His subject matter ranged from depicting appealing and humorous scenes of everyday life to sensitive social issues. We can trace 20th century American history through the legacy of images this very talented painter left behind.
Your model is a reproduction of a painting done by Rockwell for the December 1967 edition of McCail's Magazine. This long and narrow 26' by 95 (67.5 cm X 242.5 cm) canvas, titled Stockbridge Main Street at Christmas, was painted to remind the nation of traditional values. With its charming houses and stores, Stockbridge seems to resist time and stays unchanging. To the right is the bank with its imposing pillars, the town hall that dates back to 1884, the William & Sons general store that opened its doors in 1795 and is one of the oldest businesses in New England. Standing next to it is the market and the antique dealer. Rockwell's first studio in Stockbridge was located upstairs from the market. where a Christmas tree can be seen through the window. The infinite beauty of this region and the joviality of its residents, were for this distinguished illustrator, a never-ending source of inspiration. Norman Rockwell passed away November 8th, 1978 in Stockbridge, where he spent the last 25 years of his life.
---